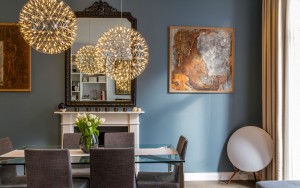 Whether you have recently completed a new build, renovation, or tired of living in a place in desperate need of a revamp; great interior design will refresh and give new life to your living environment, so here are seven of our tips:
Hang art at a sensible height. If you have a home where the ceilings soar, there might be a tendency to hang the art higher. But remember: It needs to relate to human scale, not the structure's scale. After all, what's the point of a beautiful painting you can't really see without a ladder? Measure your eye level and then hang your artwork so the centre ('midline') sits at that height. Galleries and museums hang artwork so that the midline at 1.4m-1.5m (57-60 inches) above the floor, on the basis the average adult eye level is 57 inches high.
Consider light sources when choosing paint. For example, a colour that glows warmly in a room lit only by a light bulb might shine unpleasantly in a room flooded with natural light. Despite the logical temptation to paint your new space while the room is still empty, you don't want to then find that all your furniture clashes violently with the walls, so plan ahead and view collective samples of your scheme in the light of the intended room in different light.
When hanging mirrors, think carefully about what they will reflect. You want to pick up a great scene, like a pretty chandelier. Mirrors are proven to help create a sense of space but clumsily positioned mirrors can be disorienting (and distressing if you look older than you think you do!) Frameless mirrors can almost go unnoticed as they bounce natural light around a room, whereas mirrors with large ornamental frames can feel imposing. A wall-mounted floor-to-ceiling mirror at the end of your front hall will give you a welcome sense of space every time you return home.
Talking of light, glass doors and coffee tables will allow natural light to flow through a home.
Focal points like fireplaces usually work best when positioned directly across from the entrance to the room, drawing you inside.
Piling on cushions to your sofa will add luxury (a single pair will often look like something that came with the sofa). This is your opportunity to add personality and comfort to your sofa: try two pairs in contrasting patterns, colours and textures.
Treat themes with caution. All those nautical images in the new ensuite bathroom might have felt like a good idea at first, but after a few weeks of seeing mermaids and yachts on the tiles every time you shower, the whole (possibly expensive) theme might feel unbearably 'cute'.
Remember the only rights and wrongs of interior design are the things you love and the things you hate. Don't let other people bully you with pretentious principles. You've spent time and money on that bespoke architectural project, so fill the space in the way that works for you.
References: